Aedan Avery: A Birth Story
Ths story was written by Aedan's mom, Sam, at a Common Roots Birth Story Workshop.
Aedan Avery Pierce was born at 10:15 pm on Saturday, February 4, 2017 (Due date February 19, 2017) weighing in at 7lb 4oz and 18in long.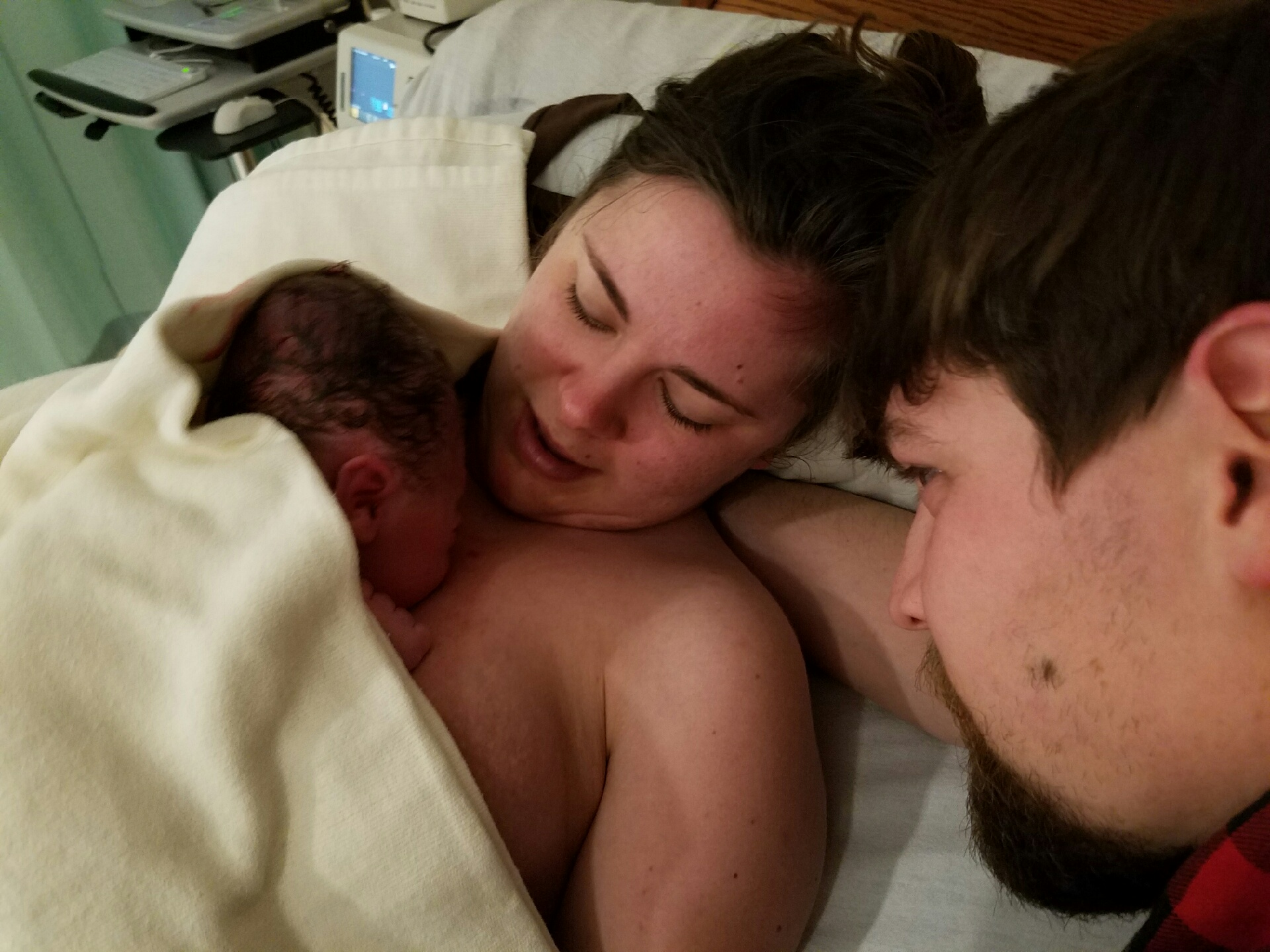 Always Early
I always had a hunch you would be here early. Your Nona had 5 babies early and speedy quick. PLUS, your dad and I are early to everything. I mean everything. On the other hand, I was also trying not to get a day or time frame in my head knowing that birth is extremely unpredictable. At 37 weeks, I decided I could no longer work in the Blair Estate wine tasting room as I was tired and quite uncomfortable. Lo and behold, one week after my last day of work you decided you were ready for the world speedy quick…well, almost. 
You were born in the beautiful Monterey, California. It was February so we were in the cool, "rainy" season…as much as it can rain being California. We spent our days walking the trail by Lover's Point and going to Big Sur and Point Lobos. I think all of our walks made you think it was your time to join us in this beautiful, crazy world. You wanted to see the ocean waves and blankets of flowers that we loved so much!
Just Like A Movie
On the day you were born, it was a Saturday. Your dad was working in the Reservations department at Pebble Beach and had just gone back to work from having lunch with me. I was busy putting on some spaghetti sauce for dinner when I bent down to get a pan and "POP" — at 1:30 pm my waters broke! Just like in the movies. A pop, somewhat of a gush, and a feeling of excitement mixed with nerves. 
I called your dad back home, told him he could probably finish out the day before returning, but he came home anyways. We called our doula, Michele, and she also wasn't worried. You were my first, so we thought we had plenty of time to labor at home. I also called everyone else— including your Nona and Papaw to let them know we would have a baby today! I was feeling very excited and at the same time very unsure of what was to come. But overall, we were ready for you. Ready to meet you. Ready to live our life with you. 
Getting to the Hospital, Coping Well Through Fast Progression 
Not long after my waters broke, contractions started and seemed to get closer together quickly. I guess your dad and Michele both thought I was coping well, (a compliment I suppose) because about 1.5 hours later I decided it was time to go to the hospital. My contractions were on top of each other and I didn't feel like it was possible to function much in between, even though I had barely been in labor for 2 hours. On arrival, my cervix was checked through back to back contractions, confirming amniotic fluid as well as checking dilation. I was 8cm, within just 2 hours after my water broke! Wow! We thought you'd be there in no time, "Early bird gets the worm", just like mom and dad! It was a Saturday so of course my OB, Dr. Zeidberg was not able to attend, so we had the on call doctor, Dr. Simulcek who was 8 months pregnant herself! Luckily, she ended up being just fine. 
The later it got, the farther away you seemed. You were facing OP, so you came out with your face up to the ceiling, "Sunny Side Up". You wanted to be sure to see all the action! But this made you get a bit stuck on the pelvic bone. We tried many things: Squatting, different positions in the bed, sitting on the toilet, sitting in the shower with water over my belly. You were just plain stuck! Your dad, Michele, and our nurse; Jaclyn, were incredible in encouraging me through all of this. Most importantly I remember Daddy taking dramatic breaths in order to help me catch mine. After about 5 hours of intermittent pushing there were lots of things being put on the table that definitely weren't part of our plan for your birth. 
Delivered Relief and Joy
When I was offered an epidural, defeat washed over me. I needed rest but I also felt I needed to be alert for you. I needed to try harder. So I accepted but kept trying. Amazingly, you were here before they could even get the anesthesiologist! When you finally started to crown they asked if I wanted to touch your head. I was a bit weirded out but they said, "C'mon, you're literally pushing him out of your body!" So I did and that was a bit of encouragement that I definitely needed! 
We were offered a vacuum to assist you out while I was pushing. We were told there were 3 tries or else I would be on my way to an emergency cesarean. A wave of energy crossed over me. During a contraction with the first vacuum attempt I pushed so hard I thought you would bring my insides out with you. But there you were! I said to your dad, "Did I do it? Is he out?"  The first try, you made it out! Then right onto my chest. Just crying. Mommy crying. Daddy says he didn't cry but I have picture proof! Dad and I sang your song to you: "Can't Help Falling in Love" to try to calm you but all that seemed to calm you was Michele's comforting voice. 
Meanwhile, I was put on Pitocin automatically in order to birth the placenta—which I don't remember feeling at all, I was so engrossed in you, beautiful boy. Getting the 4th degree tear sewn up though was memorably painful. I kept trying to distract myself with you and your dad. Our beautiful family of three. 
I remember feeling relief. Joy. Happy to look at my boy who looks just like his Daddy. 
As we sat there together, strength, perseverance, and courage to carry on through a rapid but leisurely labor manifested in all of our hard work.
You carry these qualities with you as we see you grow and learn. The greatest feeling in the world will forever be you falling into my chest that first minute of your life.