Cole Welton: A Birth Story
Our Cole Welton Gugliano was born at 7lbs 6.5 oz and 22'' long. As my firstborn, he holds a very special place in my heart. He is loved and cherished deeply. His name means, "The people's victor," and we pray that he is a champion for others.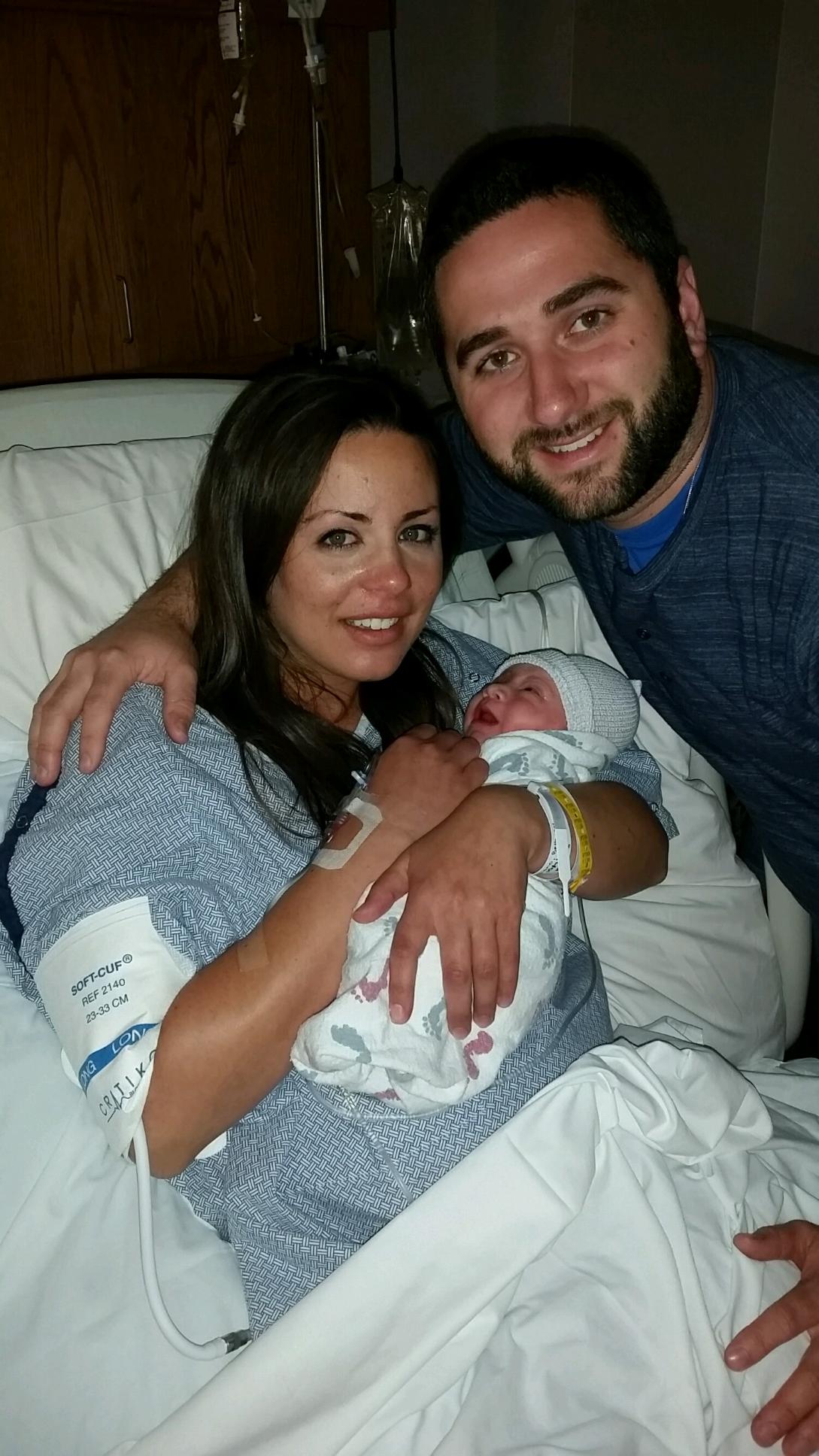 Hurry Up & Wait: Bed Rest to Make it to 35 Weeks Gestation
We were both eagerly awaiting our due date with our firstborn in mid-October. My pregnancy had been a bit rough, as I was starting to dilate and contract at only 24 weeks. Although labor/contractions never progressed past a "serious" point, the anxiety and worry and fear was in full-force whenever I felt a twinge, cramp or movement. We were ready to get put on bedrest or have a seriously premature baby since I was 24 weeks along.
My OB, who I have deep respect for, said "If you have your baby now, he will live, but it will be a fight." So we hunkered down, did all the "right" things and prayed that baby and my body could last until at least week 35. Each exam and test showed that baby was fine, for which we were grateful, so we just prayed that baby would stay put. We had a few trips to the hospital for meds to stop contractions or to monitor them, and I was eventually restricted to only working from home. We got through each hurdle day-by-day and were pleasantly surprised when we kept knocking off each week and made it to our goal of 35 weeks. Suddenly we found ourselves mentally shifting gears to the next goal of having a full-term healthy baby that would arrive on his due date of October 14th. It was a weird shift to make since we had a hard time believing it, but we made it.
Contractions & The Start of Labor
The last few weeks were full of discomfort and contractions, many of them Braxton Hicks. About 10 days before my due date, I was up all night with Braxton Hicks and they wore me out! I had an OB appointment the following morning, and my OB could tell I was exhausted. She said I had dilated further and swept my membranes. My blood pressure had been rising slowly as well so I was being closely monitored. She happened to be on call that night and mentioned that she would be surprised if I didn't end up in labor that night. I was certainly surprised and ready, yet totally not ready at the same time.
I started having some contractions, but they went away pretty quickly. Discouraged, my husband (David) and I watched a movie and went to bed. Early the next morning (around 3am), I was woken up by some light contractions. Annoyed, I started walking around my room (the hubs fell asleep on the couch downstairs) so I could walk them off, assuming they would just go away like every other time so I could go back to bed. However, they didn't stop and kept getting pretty steady.
 Around 6:30am, I woke David up and told him we needed to head in as contractions were about 5-7 minutes apart. We arrived and got checked. To my surprise and dismay, I hadn't dilated any further than I was at my previous appointment, so we were sent to walk. I walked for about an hour, and contractions picked up and we were shortly admitted. It was around 9am by that time. As I was being admitted, the OB had asked what type of pain management I wanted, to which I said I was considering an epidural. As I was getting settled into labor and delivery, the anesthesiologist arrived and said he was here to give it as he was scheduled to be in the OR the rest of the day. So I opted to have it then and man, am I glad I got it.
By 1pm, I was having contractions about every 2-3 minutes and fully effaced. However, the OB on call said that we needed to wait as baby needed to descend a bit.
"But not to worry," they said. We'd only have to wait an hour or so. "Baby by dinnertime" was the main motto used throughout the late morning and early afternoon. They encouraged me to rest as much as I could. One of the nurses got a picture of David and I during this down phase, and I will never forget that moment of calm before the storm.
A Race Against the Clock: 4.5 Hours of Pushing
They next few hours were spent slowly becoming more and more anxious and frustrated. Baby was not far enough down to start pushing but contractions were picking up. So they thought I should start pushing. We started at 4pm pushing. People always told me that when it came time to push, it would be fully natural and my body would just "do it." Well, that couldn't have been further from the truth for us! I pushed and pushed and pushed and pushed. I tried so many different positions and methods. Nothing. No progress.
Baby was "sunny side up" and was unable to be flipped despite multiple attempts. Despite having an epidural, I was uncomfortable and in pain. By 7pm, no baby and it was clear that I wasn't making any progress. I was tired. David was tired. The nurses were tired. I started to fear that this baby was going to be stuck in there forever! By this time, we were all worried about next steps.
The OB, who had only come in to check sporadically, started to hang out more consistently. Baby's vitals, which had remained relatively stable throughout labor, started to be a bit more irregular. By then, the OB said that I had 20 minutes to get baby out or we would have to do a c-section. I was so discouraged when I heard that! After pushing for so dang long, having to undergo a c-section felt unfair. I remember looking at David, who then gave me the biggest pep talk I've ever had.
So we decided to push. Again. I gave it everything I had and, to my surprise, there was some progress. After a bit, I could see the nurses and doctors start to scurry around getting some things ready and I was so confused as I was very out of it from everything my body was going through. One of the nurses got a mirror and told me to look, despite my initial resistance, so I could get an idea of how my body was working this baby out. I kept watching the clock and I knew that my 20 minute timeline was up, but I kept pushing anyways, hoping I could do it myself.
A Long-Awaited, Well-Deserved Vaginal Delivery 
The last few pushes and minutes of labor were intense. I could feel that he had shifted somehow and was quite close to delivering him. I was in pain, his vitals were all over the place, and the OB became a drill sergeant–yet I could tell she was nervous. A few extra doctors got called in, both for me and the baby. The OB had to use the forceps to deliver him, but he was finally delivered at 8:22pm on Wednesday, October 7th!
I was able to hold him only for a few seconds until the cord was cut but then he was whisked away. I had a hard time reconciling what was going on – the knowledge that labor was over but not being able to see my baby. While I waited for him to get checked out, I was stitched up.
After about an hour, I was able to hold my sweet newborn son for the first time. He had a very large edema on his dead due to him being stuck and had some extra tests to run to make sure he was ok. But that moment of meeting him for the first time is a feeling that I could never sum up in words.  It was fairly traumatic for everyone. However, his tests and vitals all came back and we were able to head to recovery. My family was able to come in and meet him. We spent some extra time recovering and by 11pm they wanted to take him into the nursery to keep his body temp stable so I could sleep.
Our Cole Welton Gugliano was born at 7lbs 6.5 oz and 22'' long. As my firstborn, he holds a very special place in my heart. He is loved and cherished deeply. His name means, "The people's victor," and we pray that he is a champion for others.
This birth story was written by Cole's mother, Bethany, and edited by Katie of Common Roots Birth. 
Des Moines Birth Doula Services
I'm Katie, a certifying doula through DONA International, the leader in evidence-based doula training. Now taking clients for 2019, I would love to hear more about your goals for your labor and delivery!